A MESSAGE FROM THE AUTHORS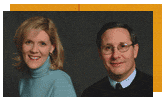 This month we'd like to share with you Rob's article in the February/March issue of Value magazine.
As you would expect, it's about trust.
As always, your feedback and comments on this newsletter are welcome at info@trustedleader.com.
-Rob and Anne-
TRUST INSIDE THE ORGANIZATION
Late last year, the New York Times published a series of reports based on Harris and Roper polls. In one report, the Times noted that a grand total of 2 percent of survey respondents felt that Fortune 500 CEOs were "trustworthy."
It's hard to imagine a clearer message that Fortune 500 senior executives have a major credibility issue with the public.
That presents a problem with cascading implications because it's likely that these "public opinions" have roots deep within the organizations themselves.
Lack of trust on the outside usually mirrors a lack of trust on the inside. And if employees don't trust their top managers, then sustainable value creation of any kind will be compromised.
The company has launched a major new social/good initiative? "Sure it has; but it's probably a PR stunt." The company has agreed to partner with a nonprofit to provide global disaster relief, or alleviate suffering in a particularly hardhit region? "That's well and good, but it's not doing much to help its own employees." Value has to be built internally first, or even the most generous of external efforts will not ring true and may not gain the traction needed to succeed fully. So what can be done?
>> read the complete article at Value
~ ~ ~
Please forward this newsletter to your colleagues and friends who are interested in organizational and leadership issues. Your feedback is always welcome at info@thetrustedleader.com.



WORKING WITH THE AUTHORS OF THE TRUSTED LEADER

Contact us for information about having us work directly with you and your organization.




SUBSCRIBE TO TOPICS OF
TRUST AND LEADERSHIP


If you received this newsletter from a colleague or associate you are welcome to sign up for your own subscription.
© 2006 Robert Galford and Anne Seibold Drapeau All Rights Reserved Privacy Policy
www.thetrustedleader.com
Powered by Constant Contact e-newsletter management by Minerva Solutions, Inc.