A MESSAGE FROM THE AUTHORS
"Vitality shows in not only the ability to persist but the ability to start over."
F. Scott Fitzgerald
US novelist (1896 - 1940)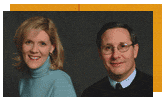 One of the organization-building responsibilities of a trusted leader is to keep the blood pumping in an organization. Are your people simply present with a pulse? Or are they invigorated? If not, is it time to start over?
This month's article is the second in our series of articles on the responsibilities of trusted leaders.
Developing a community of future leaders.
Fostering organizational vitality.
Identifying and modeling appropriate personal attributes and behaviors
Consciously planning your legacy.
As always, your feedback and comments are welcome at info@trustedleader.com
-Rob and Anne-
Does your company simply exist, or does it thrive? Do your employees "go through the motions without the emotion?" Or are they motivated to engage with one another on issues that stretch above and beyond their job descriptions and the current "task-at-hand?"
Does your organization extend into lives of your employees in a positive way, and do they in return allow their lives to extend into the organization? Do your employees give of themselves at work; do they allow their personalities and creative thoughts to contribute to their work? Or do they compartmentalize their lives, showing only a professional face at the office, and giving as much as they need to get by, but holding a great deal in reserve?
In one of the many wonderful episodes of the old Mary Tyler Moore TV sitcom, if memory serves, the boss, Lou Grant tries to offer a depressed Mary some advice about vitality. He says something like "You don't just get up, take a shower, have a cup of coffee, go to work, come home, have dinner, watch television, and go to bed. You have to GET UP! TAKE A SHOWER! HAVE A CUP OF COFFEE! GO TO WORK! COME HOME! HAVE DINNER! WATCH TELEVISION! AND GO TO BED!"
Picture Ed Asner, raising his gruff voice and waving his arms, essentially illustrating the difference between an existence with vitality and one without.
"Vitality is what makes a company worth working for. And as a trusted leader, fostering a vital environment is a critical responsibility."
Vitality is what makes a company worth working for. And as a trusted leader, fostering a vital environment is a critical responsibility.
Now let us be clear: we are not talking about longevity. We're not saying that it is the responsibility of a trusted leader to ensure that the organization merely survives (or continues to make the same products it has) for 100 years, or continues to be structured as it always has been, and so forth. We're not talking about simply "keeping things going." We're talking about a healthy existence. In fact, part of ensuring organizational vitality lies in knowing when it is time to change or discontinue the organization or the organizational function.

Vitality, to us, in other words, means health and growth. And growth, to us, is not purely financial; it is at the same time, and equally importantly, intellectual and creative.

How can you foster vitality in your organization? In part, it stems from your own sincere enthusiasm for what you do and what those around you do. People who are naturally dynamic and encouraging tend to be at an advantage here. But even those of us who are by nature reserved and quiet can encourage vitality throughout their organizations, by having the right "building blocks" in place.
We'll explain these building blocks in our upcoming articles, but here's a preview of what they are:
Know what makes the business tick
Know the performance indicators and rewards
Delineate roles and responsibilities
Understand how business is done
Prepare for exceptions
Resolve conflicts
Somehow, find a way to give and receive unfiltered feedback
If you have something to say about organizational vitality (or Mary Tyler Moore, for that matter) let us know.

~ ~ ~
Please forward this newsletter to your colleagues and friends who are interested in organizational and leadership issues. Your feedback is always welcome at info@thetrustedleader.com.



WORKING WITH THE AUTHORS OF THE TRUSTED LEADER

Contact us for information about having us work directly with you and your organization.




SUBSCRIBE TO TOPICS OF
TRUST AND LEADERSHIP


If you received this newsletter from a colleague or associate you are welcome to sign up for your own subscription.
© 2005 Robert Galford and Anne Seibold Drapeau All Rights Reserved Privacy Policy
www.thetrustedleader.com
Powered by Constant Contact e-newsletter management by Minerva Solutions, Inc.